FAVORITE CHILI
1 lb ground beef

1 lge can diced tomatoes

1 lge can kidney beans

1 sm. onion, chopped

1/2 tsp. salt

1/2 tsp. tabasco

1 tsp. worcestershire

1 tsp. chili powder (more if desired)

1/3 c. ketchup

1 T. mustard

1 can mushrooms, pieces & stems (drained)
Brown beef and onions in skillet. Drain off fat. Add all other ingredients and mix together well. Bring to a boil on high heat then simmer on low heat for approx. 2 hours or until thick.


EGG & BACON POTATOES
4 lge baking potatoes

1/4 lb. bacon, cooked & crumbled

1/4 lb cheddar cheese, finely grated

1 T. butter or margarine

1/4 c. milk

2 eggs, separated

salt & pepper to taste
Preheat oven to 400. Scrub potatoes and prick them well with a fork. Bake them on oven rack for 1 1/4 hrs. Remove potatoes from oven, cut in half lengthwise and scoop out centers. Mash scooped-out potatoes in bowl with butter and egg yolks. Mix in bacon, cheese and seasoning to taste. Beat egg whites until stiff and fold into potato mixture. Pile the mixture back into the potato shells. Put potato halves on a baking pan and return to oven for 15 minutes so the filling rises and becomes golden brown.


HOMEMADE CHICKEN NOODLE SOUP
Heat all ingredients except noodles to boiling. Reduce heat. Cover & simmer until chicken is done. Skim fat if necessary. Add noodles. Cut chicken into 1 inch pieces. Heat for about 45 minutes until noodles are cooked.


QUIK 'n' EZ MEAT LOAF
2 lbs ground beef

1 T Worcestershire sauce

1 can mushrooms, drained

2 c. bread crumbs

¾ c. ketchup

1 small onion, finely chopped
Preheat oven to 350º. Mix ingredients together and pack firmly in a loaf pan. Bake for 1 hour.
*NOTE* this makes a very big meatloaf...I usually cut this in half when making for a family of 4.


UPSIDE DOWN PIZZA
1 lb ground beef

4 bacon slices, cooked & crumbled

½ small onion, chopped

½ green pepper, chopped

½ c. cubed pepperoni

½ c. cubed salami

1 can mushrooms, drained (or 1 pkg fresh, sliced)

2 wieners, sliced

1 - 14 oz can pizza sauce (or 2-8 oz cans)

1/2 tsp. garlic salt

2 c. shredded mozzarella cheese

¼ c. parmesan cheese
Cook bacon in frying pan. Remove & crumble. Sauté onion. Cook ground beef until browned. Add all other ingredients except mozzarella cheese & parmesan cheese. Drain off fat. Add pizza sauce and mix together well.
Batter:
1 c. flour
1 c. milk
2 eggs
½ tsp. salt
Mix ingredients for batter. (This will be very runny, but it's supposed to be - don't worry!) Place meat ingredients in a 9x13 inch baking dish. Sprinkle 2 c. shredded mozzarella cheese over meat mixture. Pour batter over as evenly as possible. Sprinkle with parmesan cheese. Place in a 350º oven for 1 hour or until crust is browned.
**NOTE** The ingredients shown is only a suggestion. You may add whatever you wish. This is also very good made with vegetables instead of meats.



GRAMPIE'S CLAM CHOWDER
Cook bacon; set aside on paper towel to drain. In bacon fat, sauté onions until transparent. Add potatoes & boiling water. Cover & cook 5 minutes. Add juice from clams. Bring to steaming on high heat, then turn to low heat & cook 30 minutes. Add clams & crumbled bacon, then add milk. Season with salt & pepper. Cover; cook on low heat for 30 minutes



NEXT


Copyright 2003 © Ally's Country Home -- All Rights Reserved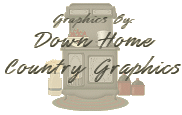 Nothing on this page for download